Li'l Red KettleHead
http://www.lrkh.ca

EMAIL pmain@lrkh.ca
LOCATION
FROLIC OFFERINGS
Frolic Attendees receive 15% discount with coupon code: 2022FROLIC15
Check my website for other special Product Bundles.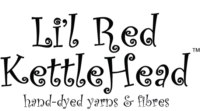 SOCIAL
INSTAGRAM https://www.instagram.com/lilredkettlehead

FACEBOOK https://www.facebook.com/LilRedKettleHead

ETSY

OTHER https://www.ravelry.com/yarns/brands/lil-red-kettlehead
DESCRIPTION
As a small batch, indie dyer, all yarns and fibres offered are acid dyed by Li'l Red KettleHead herself. The palette changes frequently, with some repeatable colourways offered, along with many One of A Kind batches. Dyeing inspiration comes from many sources, seasons, nature, mood, paintings to name a few. I choose unique, quality base yarns that I, myself, love to knit and work with.
EVENTS
PHOTOS