Wonder Twin Fibrearts
http://www.wondertwinfibrearts.com

EMAIL hello@wondertwinfibrearts.com
LOCATION
FROLIC OFFERINGS
Melton Tote
Hard wearing yet soft to the touch, boiled wool has long been used for items that require durability. The Melton Tote has a boiled wool blend fabric on both the outside and inside. And since we all know that pockets are an absolute requirement for any bag, we gave you two large ones on the outside and one on the inside! All this is finished off with leather handles in a complementary colour to your tote. Dimensions: 17.5″ height, 12″ width, 4″ depth.
We are also offering Frolic participants 10% off our entire store using code FAUXFROLIC10 at checkout.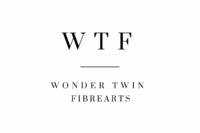 SOCIAL
INSTAGRAM http://instagram.com/Wondertwinfibrearts

FACEBOOK

ETSY

OTHER
DESCRIPTION
Wonder Twin Fibrearts is the result of two slightly obsessed fibre fanatics who found that together, their creative superpowers were unstoppable.
Chelsea and Danielle make unique hand sewn project bags and notions for the discerning maker. They also design knit and crochet patterns which can be found on Ravelry as well as their website.
EVENTS
PHOTOS