Stix and Stones Yarn Boutique
http://www.stixandstonesnb.com

EMAIL stixandstonesnb@gmail.com
LOCATION 147 Main Street West
NORTH BAY, ON P1B 2T6
Canada
FROLIC OFFERINGS
A Faux Frolic exclusive colourway, duet dyed with Pretty Little Yarns!
15% off all yarns, sitewide, with code "FAUXFROLIC22"
Be sure to check out our studio tour/dye demo on the Frolic YouTube channel!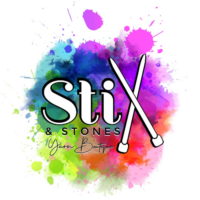 SOCIAL
INSTAGRAM https://www.instagram.com/stixandstonesnb/?hl=en

FACEBOOK https://www.facebook.com/stixandstonesnb

ETSY

OTHER
DESCRIPTION
Stix and Stones Yarn Boutique is a full service knitting shop, located in the heart of beautiful Downtown, North Bay, Ontario and home to our very own line of hand dyed yarn and fibres, known as "Stix Yarn & Fibre". Our repeatable hand dyed colourways are created on natural fibre bases, ranging from laceweight to super bulky, and everything in between! You may recognize some of our bases and colourways from Georgian Bay Fibre Co, as we took over their recipes last summer to keep their amazing colours alive!
We specialize in quality natural yarns for hand knitting and crochet, as well as materials for other fibre art mediums including felting, weaving, punch needle, embroidery, cross stitch and more! We offer both in person, and virtual classes that cover a variety of techniques and topics, all created to inspire and assist you in learning something new, in an inclusive, and friendly atmosphere.
EVENTS
PHOTOS