Stitch Noir
http://www.stitchnoir.com

EMAIL
LOCATION
FROLIC OFFERINGS
Two other indie dyers and myself are going to team up and dye live on Zoom early on during the Frolic with the goal being to create a new colourway inspired by our chosen theme, our Frolic audience and the energies of the day. This colourway will then be made available on the Sunday.
Saturday April 23 @ 11:00 AM – 12:00 PM — Live Dyeing Session with Stitch Noir, Lake Knit Yarns & Colorista | https://us02web.zoom.us/j/83449972939?pwd=SnVkNVNlaVFvQWRNazUzNXljS1NnUT09"
In addition I am offering 15% off most of my shop at www.stitchnoir.com when you use the code: frolic22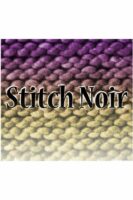 SOCIAL
INSTAGRAM http://www.instagram.com/stitchnoirfibrearts

FACEBOOK http://www.facebook.com/stitchnoir

ETSY

OTHER
DESCRIPTION
I like to keep my dyeing quirky and fun and I see my hand-dyed yarns and fibre as art projects. Sometimes they're planned, sometimes guided simply by the inspiration of the moment! I dye all sorts of bases (fingering to super bulky) and fibres, with a variety of techniques and saturated bright colours. My colours are small batch and often one of a kind. I also specialize in mini skein gradient sets in a variety of yardages that are perfect for everything from small cowls and hats to larger garments.
EVENTS
PHOTOS