Soak Wash
https://soakwash.ca/

EMAIL Diana@soakwash.com
LOCATION
FROLIC OFFERINGS
We are celebrating Frolic with a Limited Edition Soak 'A Bow in the Sky' Shawl Bundle designed for yarn and fibre lovers who want to take gentle care of their handmade projects. We have partnered with Kelbourne Woolens (our premier knitting distributor in the US) to offer the pattern and all the yarn you need to knit your own A Bow In The Sky shawl (in a custom Soak colourway!), along with a curated selection of Soak products to care for your handmade creation. Valued at over $177 and yours for only $125! Only 50 bundles available!
Bundle includes:
• 12oz Soak Laundry Soap- Pineapple Grove
• 3oz Soak Laundry Soap- Scentless
• 3oz Handmaid hand crème- Pineapple Grove
• Eco Wash Bag Generous- Pineapple Grove (Yellow)
• Limited edition Soak bottle Stitch Markers (6pk) by Lemonade Shop
• 'A Bow in the Sky' shawl digital pattern by Kelbourne Woolens
• Shawl Yarn
– 1 Perennial, color: lead 100 gram skein plus 2 mini skeins, 60% superwash Merino, 25% Suri alpaca, 15% nylon.
– 4 Perennial Mini Skeins, colors:pink, neon lime, cantaloupe, Caribbean, 10 gram hank, 2 per contrast color 60% superwash Merino, 25% Suri alpaca, 15% nylon.
Orders for this item will be shipped after April 30th, 2022.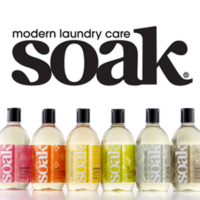 SOCIAL
INSTAGRAM https://www.instagram.com/soakwash/

FACEBOOK https://www.facebook.com/soakwash

ETSY

OTHER https://www.ravelry.com/people/Soak
DESCRIPTION
Soak is modern laundry care, perfect for all the things you love to make and wear most. Its gentle, no-rinse formulation is perfect for hand- or machine-washing your softest sweaters, laciest lingerie, swimwear, active wear and even baby clothes.
All the ingredients in their gentle formulation are skin- and fabric-friendly, with no harsh chemicals or overwhelming fragrances.
EVENTS
PHOTOS