Colorista
http://coloristayarn.com/boutique/en

EMAIL coloristagenevieve@gmail.com
LOCATION
FROLIC OFFERINGS
Join me Saturday at 11:00 a.m. for a fun filled live dyeing session with Amanda from Stitch Noir and Christa from Lake Knit Yarns.
Saturday April 23 @ 11:00 AM – 12:00 PM — Live Dyeing Session with Stitch Noir, Lake Knit Yarns & Colorista | https://us02web.zoom.us/j/83449972939?pwd=SnVkNVNlaVFvQWRNazUzNXljS1NnUT09"
Also, enjoy 15% off all weekend with code TKF15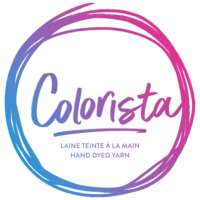 SOCIAL
INSTAGRAM http://instagram.com/coloristayarn

FACEBOOK http://facebook.com/coloristayarn

ETSY

OTHER http://coloristayarn.com/boutique/en
DESCRIPTION
Colorista is an indie hand dyed yarn company from Quebec, Canada. Genevieve, the owner and dyer behind Colorista, started dyeing yarn to put her own colours on her needles which lead her to launch Colorista in 2016. Her career path was not necessarily leading her to become an entrepreneur in the fibre industry. She started as a television makeup artist, then became a certified translator and now she is an indie dyer! What she likes most about her present career, besides creating colour palettes, is to see her colours dancing on knitters needles to become beautiful creations in their hands. Colorista's high quality yarns are carefully hand dyed in small batches in an array of chic and contemporary colours.
EVENTS
PHOTOS