indigodragonfly
https://indigodragonfly.ca

EMAIL orders@indigodragonfly.ca
LOCATION 1946 Kennisis Lake Road
Haliburton, Ontario K0M 1S0
Canada
FROLIC OFFERINGS
-Special Frolic Colourway!
We will offer our special Frolic colourway for pre-orders all weekend. Join us on Zoom at 11 am on Saturday April 23 for a live dyeing session of this year's #FauxFrolic colourway!
-Special offering:
MerGoat Sport for the release of the new Quagga Pullover by Meg Anderson Kilfoil of CustomFit Knits. Join us at 1 pm on Saturday April 23 for a Zoom chat with Meg to discuss her new design and learn all about CustomFit Knits.
-Discount code:
Use code FAUXFROLIC22 for 10% off everything on our website.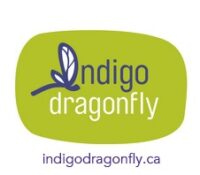 SOCIAL
INSTAGRAM https://www.instagram.com/indigodragonflystudio/

FACEBOOK https://www.facebook.com/indigodragonflydesigns

ETSY

OTHER
DESCRIPTION
We offer our individual and unique takes on traditional yarn dyeing, refusing to be a cog in the cookie-cutter yarn industry. We specialize in luxury yarns with an emphasis on finding the best yarns as well as developing custom yarns with our global-wide mill partners to bring you products no-one else has. We are also well-known for our humour – we could call that blue skein Dye Lot #346 but where's the fun in that – one of our yarn clubs is the Smart-Ass Knitters for World Domination Club; 'nuff said?
Everyone here pitches in with the dyeing, promotion, advertising & production, plus Kim is fashion knitwear designer extraordinaire! We also have a chipmunk (Louie – head of security), penguin (Joe – shipping), Wheaten Terrier (Oz – studio muppet) and Lab-Husky (Willow – ambassador of treats) to keep all the humans in line. We're located back in the woods in West Guilford, Ontario – go north of Peterborough for 90 minutes then make a left at the moose.
EVENTS
PHOTOS