Green Gable Alpacas
https://greengablealpacas.com

EMAIL jogilvie@greengablealpacas.com
LOCATION 5627 Route 12
Birch Hill, CAN-Prince Edward Is. C0B 2C0
Canada
FROLIC OFFERINGS
10% off our entire yarn collection for Frolic attendees. Use FROLIC at checkout. Excludes sale items.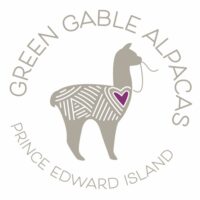 SOCIAL
INSTAGRAM https://instagram.com/greengablealpacas

FACEBOOK https://facebook.com/greengablealpacas

ETSY

OTHER https://www.youtube.com/user/24yomaja
DESCRIPTION
We started our farm over 12 years ago with one objective in mind: to raise happy, healthy alpacas with the finest fibre in Atlantic Canada. We bought, bred, and raised our animals to meet those high standards and are proud be recognized as leaders in alpaca care and premium yarn production today.
EVENTS
PHOTOS