Misneach
https://misneach.ca

EMAIL angela@misneach.ca
LOCATION
FROLIC OFFERINGS
Take 10% your Misneach purchase for the duration of the Faux Frolic when you use the code Frolic10.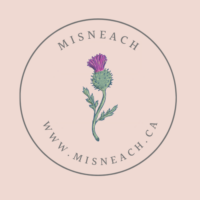 SOCIAL
INSTAGRAM https://www.instagram.com/misneach.ca/

FACEBOOK

ETSY https://www.etsy.com/ca/shop/MisneachCA

OTHER
DESCRIPTION
I'm Angela, the owner, designer and maker here at Misneach. I'm a lawyer by trade but I am a creative soul at heart. I currently split my time between my bag making studio and teaching law at the University of Ottawa's Faculty of Common Law.
Misneach (pronounced mish-noch) is Gaelic for courage. Starting your own creative business takes a lot of courage, making this the perfect name!I I live in North Glengarry, Ontario, Canada, which has Scottish roots, back to the Highland Clearances. It's also home to the North American Pipe Band Championships, which takes place every August long weekend. I have deep Scottish heritage on my mother's side; we come from the MacLeod's on the Isle of Skye, amongst other clans.
My Celtic inspired bags are all handmade, one at a time, by me in my home studio just outside of Maxville, Ontario. I've sourced Harris Tweed® and tartan directly from the weavers in Scotland. I like to support other small businesses in my own business and I buy most of my other supplies, like leather, fabric and hardware from a variety of small, independent businesses across Canada.
EVENTS
PHOTOS