A River of Yarn
http://www.ariverofyarn.ca

EMAIL ariverofyarn@gmail.com
LOCATION 353 Kent's Bay Road
Keene, Ontario K9J6X8
Canada
FROLIC OFFERINGS
All participants will receive a 20% discount on all products when they spend $50 or more. The discount code needed to take advantage of this is TKGFauxFrolic2022. We also do not charge tax!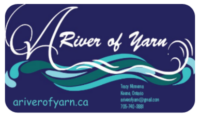 SOCIAL
INSTAGRAM https://www.instagram.com/ariverofyarn/

FACEBOOK https://www.facebook.com/ariverofyarn

ETSY http://minnema.ca

OTHER https://www.pinterest.ca/ariverofyarnstore/_created/
DESCRIPTION
We are a local studio and boutique specializing in luxury, yet affordable hand knitting and crochet yarns, tools, and accessories. We offer classes in beginner to advanced levels and welcome all those who are interested in sharing the craft. Classes are led by Tracy, fibre arts professional and owner of A River of Yarn.
We are always on the lookout for the best deals for our customers, as we believe that you should not have to spend a fortune to create a beautiful piece with quality yarns and tools. Our variety of yarns includes unique fibres such as alpaca, llama, angora, silk, flax, hemp, paper and recycled fibres.
Our boutique is also located on one of Canada's' National Historic Sites, the Trent Severn Waterway.
EVENTS
PHOTOS