Dolphina Collective
http://www.dolphinacollective.com

EMAIL dolphina13@hotmail.com
LOCATION
FROLIC OFFERINGS
PROMO CODE
2022FAUXFROLIC15 – 15% off on purchases over approx $95
2022FAUXFROLIC20- 20% off on purchases over approx $225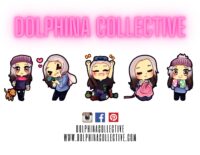 SOCIAL
INSTAGRAM http://www.instagram.com/dolphinacollective

FACEBOOK http://www.facebook.com/dolphinacollective

ETSY http://www.dolphina13.etsy.com

OTHER
DESCRIPTION
Dolphina is first and foremost Sophie Deschamps – born and raised in "La Belle Province" but an adopted Kingstonian since 2010.
Passionate about craft, as far back as she can remember, she has been sewing since she was about 7. Sophie got, as a Christmas present, a refurbished Singer Featherweight sewing machine and taught herself how to knit when she was about 8 from a coloring book. Sophie doesn't remember ever not knitting. In College, she was knitting in the Montreal subway when it was still 'a grandma thing'.
"My style changed overtime and now I seek knitting related themes as much as I can. I am obsessed with Spoonflower where I like the idea of supporting indie graphic and surface designers. Overtime, I developed friendships with a number of them that I knew could supply custom fabric depending on the demand. I do believe a LOT in collaboration. "Community over competition" is a very important moto for me. I love being able to elevate other makers like me. Coming soon, I'll be starting to print my own design for lining. I really want to achieve a more uniform look where people recognize a Dolphina bag in the wild. I think my bags are a reflection of me and my personality; unique, bold, funky and fun!"
Dolphina Collective is also a collection of fantastic indie dyers from Canada and the US. Small batch indie dyers that have one goal; share their love for colors.
EVENTS
PHOTOS