Karberry Farm
http://karberryfarm.ca

EMAIL contact@karberryfarm.ca
LOCATION 10792 HWY 43
MOUNTAIN, ON K0E1S0
Canada
FROLIC OFFERINGS
We are offering a 15% discount to the frolickers for the duration of the Faux Frolic. Coupon code: Frolic
Applies to all regularly priced items but not handknit items.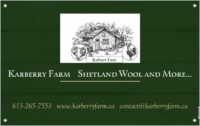 SOCIAL
INSTAGRAM

FACEBOOK https://www.facebook.com/karberryfarm

ETSY

OTHER
DESCRIPTION
Quality yarns for traditional knitting in all kinds of colours! We have a limited supply of our own shetland wool so we offer other popular wool brands to complement our own clip. Rauma Finull, Studio Donegal, John Arbon, Opal, Ella Rae and hand dyed yarns in a variety of weights, roving and dyed t are some of the awesome finds in our shop. We also carry novelty sheep items, tea towels and bags as well as Eucalan and Unicorn Power Scour. I hope you enjoy the selection!
EVENTS
PHOTOS